Microsoft 365 content Packages
We receive many queries regarding what is available in the Microsoft 365 Suites. Below is a quick reference to assist you in your enquiry.
Home, Business and Enterprise Suites as well as the outright purchase OEM versions are listed.
Office 365 Business Packages
Microsoft 365 Apps for enterprise
Unleash your best ideas, get things done, and stay connected on the go.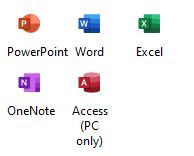 Connect and stay organized with business-class email, calendaring, and contacts all in one place.

Deliver elevated meeting experiences with sophisticated call functionality and a central hub for meetings, chat, content, and calling.

Connect and engage across your organization with an intelligent, mobile intranet and enterprise social networking.

Access files from any device, at any time. Engage with intelligent video and create visually striking content in minutes.

Efficiently manage work across individuals, teams and organizations. Create and automate your business processes.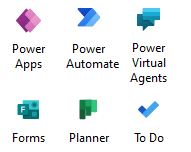 Work smarter with personal and organizational productivity insights. Make fast, informed decisions with advanced analytical capabilities.

Device and app management
Help users be productive wherever they are while keeping corporate information secure. Flexible management and powerful security solutions let you deliver protected mobile experiences on any device.

Group Policy Support, Office telemetry, Roaming settings

Shared computer activation

Identity and access management
Secure connections between people, devices, apps, and data. Increase your security and productivity with a single, holistic identity solution that gives you flexibility and control.

Detect and investigate advanced threats, compromised identities, and malicious actions across your on-premises and cloud environments. Protect your organization with adaptive, built-in intelligence.

Protect your sensitive data everywhere, even in motion and when shared. Gain visibility and control over how any file is being used with a comprehensive and integrated information protection solution.

Assess your compliance risk with simplified assessment tools. Intelligently respond to requests and protect data across devices, apps, and clouds..